Velocity Chemical Launches Phalanx Degreaser and Cleaner for Dairy Farms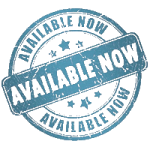 Surrey, BC
– Velocity Chemicals Ltd. has announced the addition of
PHALANX
to its growing range of degreasers and cleaners, a new product especially formulated to meet the cleaning needs of dairy farmers across BC.
PHALANX is a water-based detergent specifically formulated to remove grease, oil and other soils common to dairies and farms quickly, easily and efficiently. The all-purpose cleaner is designed not only to protect a dairy's most valuable investments, but also to help in maintaining a clean milking system and aid in the production of high quality milk.
Engineered with a special accelerated action, it can penetrate and dissolve grease and oils more effectively than many other products in its class, ensuring the most thorough clean possible on whatever surface it is applied to – milking parlour walls and floors, food processing areas, barns, walkways, or on tractors and other types of farm equipment.
PHALANX has previously been available through Dave at PMP Sales or Rob at Rheubottom Sales, but in a diluted form supplied to many farms as "All In One" cleaner.
Now, for the first time, dairies and farmers around the province can buy PHALANX at full strength directly from Velocity Chemicals, ensuring overall better value for money.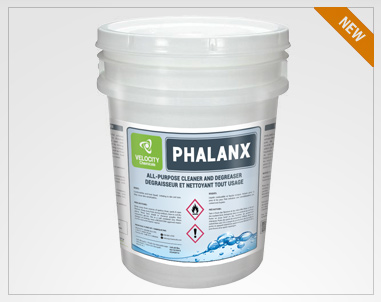 Velocity Chemicals – Your Partners In Farming
Velocity Chemicals is a recognized leader in the formulating and manufacturing of chemical degreasing and cleaning products, providing trusted cleaning solutions to a wide range of industries. Established in 2006, we have a reputation for creating highly innovative solutions with stringent testing standards and supported by resources, experience and technology to satisfy any requirement.
We see all of our customers as business partners, rather than simply contributors to our sales figures. We are a premium option when it comes to choosing a partner in your dairy business, with concentrated products that are designed to support your dairy efficiency and profitability.
Velocity Chemicals is locally owned and operated, with all of our products manufactured and warehoused in Port Kells, Surrey, BC. We manufacture a wide range of industrial cleaners as well as a multitude of CFIA-approved cleaners, including CIP cleaners.
We have our own lab and chemist on site and all of our products must satisfy strict Quality Control parameters before they are packaged or shipped. Orders are usually shipped on the same day (if placed before 9:30 AM), but otherwise within the following 24 hours.
For more details on what Velocity Chemicals can do for you, and how our products can benefit your dairy farm, please call us at 604-881-4700 or email us.